Elgin Park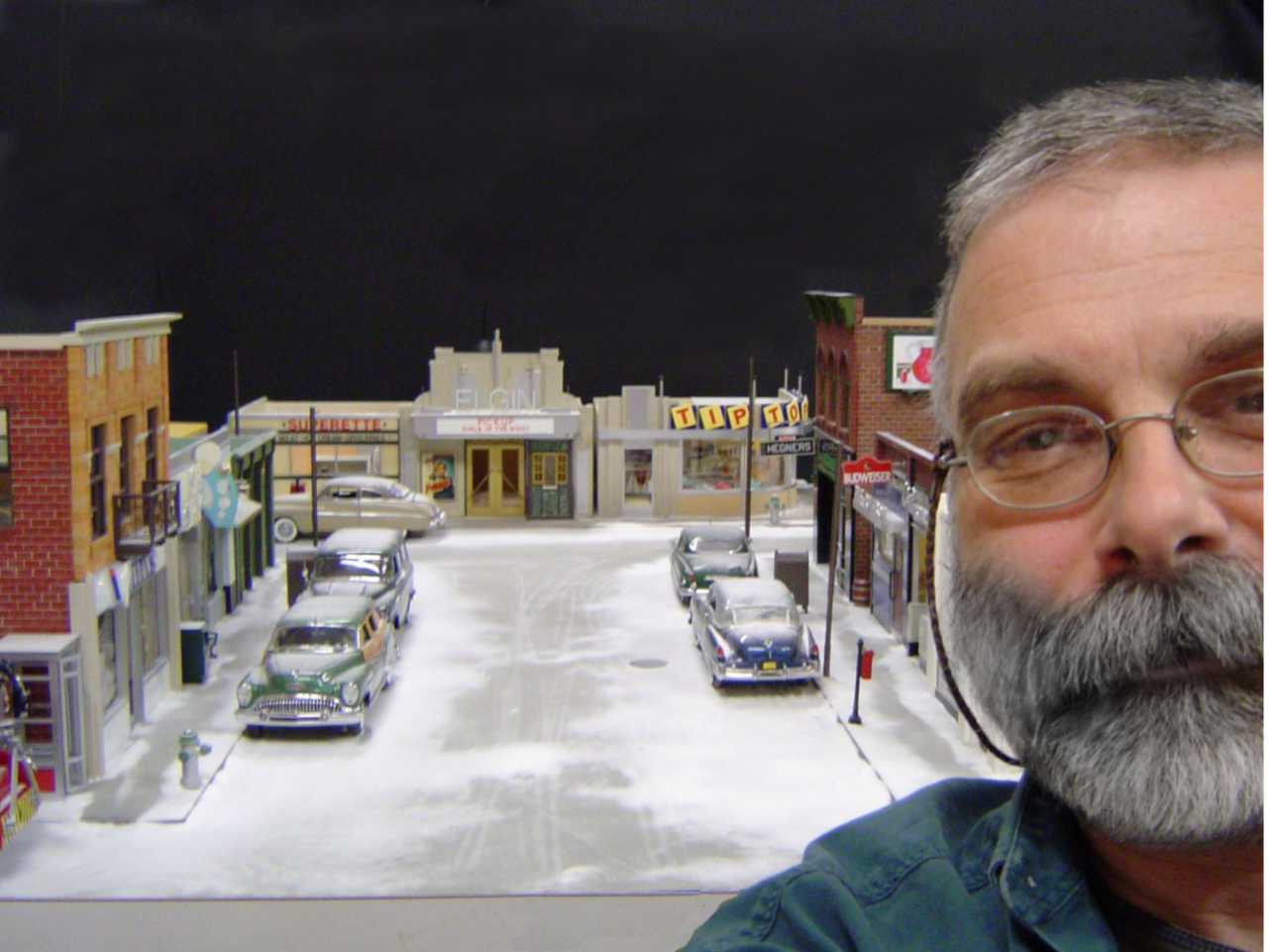 Artist and photographer Michael Paul Smith has spent hours upon hours photographing one special town that he holds very dear to his heart; Elgin Park. The body of his work compromises of scenes from the 1930's through to the 1950's and predominantly feature automobiles of the era shot against the backdrop of an array of contemporary architecture.
Michaels work provides a unique perspective of the era and draws the viewer into each scene. However, everything is not as it first seems. Each photograph was created using forced perspective, the technique of making an object seem larger or smaller than it really is based on its juxtaposition with other objects. He would place model cars and miniature buildings and props he had fashioned onto a platform positioned in perspective with real buildings and trees in the background which would combine with the staged materials to create a realistic scene.
---
​An artist on many levels, not just in the composition of the photographs, but in the creation of the dioramas, the creation of the buildings and also in the creation of the furniture, fixtures and fittings and props used within the buildings and around the scenes he created. It is this attention to detail that makes his creations so hard to differentiate from real life.
Michaels work reached worldwide and was catapulted into the public eye after photos that were published in a UK magazine went viral. His work has been covered in media outlets such as The New York Times and The United Kingdom's Daily Mail. A short documentary, Elgin Park (clip below), was made on Smith's life and made the festival rounds in 2015. He has also published many of his photos in two books: ELGIN PARK: Visual Memories of Midcentury America and ELGIN PARK: Visual Memories of Midcentury America in 1/24th scale.

---
---
Elgin Park has 42 ratings and 36 reviews. Andrew said: I'm a child of the 50's and as a young boy I loved gluing together Airfix models: aeroplanes and s...
Elgin Park has 23 ratings and 10 reviews. Pippa said: This is an extraordinary body of work, and a fascinating book.Elgin Park is the exploration of me...
Stay Informed
When you subscribe to the blog, we will send you an e-mail when there are new updates on the site so you wouldn't miss them.